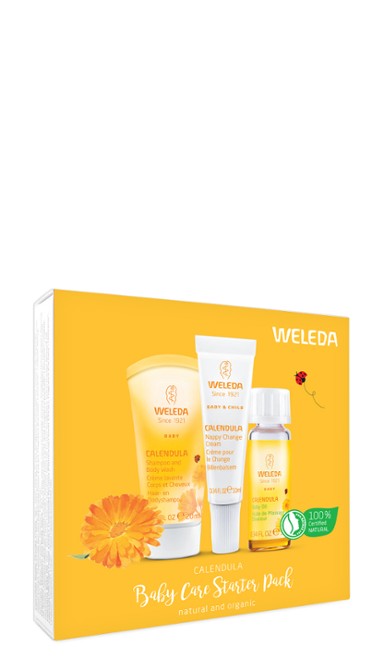 Calendula Baby Care Starter Pack
Or 4 interest free payments of $4.99 with
More info
Or 6 payments from $3.33 weekly with
More info
Or 5 payments from $3.99 fortnightly with
More info
Calendula Baby Care products support your baby's natural skin functions by wrapping your little one in a layer of warmth and protection, without any nasty chemicals. 100% certified natural and organic, so you can enjoy peace of mind knowing that your baby's skin is being truly protected and effectively looked after.
The Baby Care starter pack is an ideal gift or as a handy travel pack of essentials for a new mother.
The Calendula Baby Care Stater Pack includes:
Calendula Shampoo & Body Wash, 20ml
Gentle in the bath and shower, for a naturally clean baby.
Baby's delicate hair and skin gets the perfect balance of cleansing moisture and the kindest care.
Calendula Oil, 10ml                          
Baby-gentle body oil for rubs and massages.
A cuddle in a bottle – soft oils to cherish baby skin and help build up natural resistance to the environment can be used for massage, moisturising or adding to the bath.
Nappy Change Cream, 10ml
Gentle protection from soreness on delicate skin.
Protect baby's most sensitive area with the natural support of organic calendula.
Soothes irritated skin and reduces redness from day one.
FREE DELIVERY NZ WIDE
On orders over $150
Select An Option To Add To Your Cart
Default Title / Sold Out